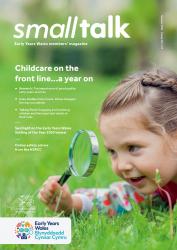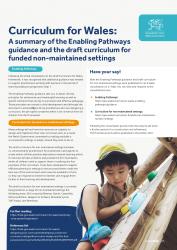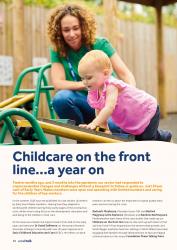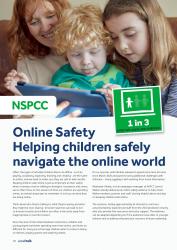 smalltalk…supporting the early years sector in Wales for over 30-years.
Published quarterly since spring 1986, and mailed free of charge to all Early Years Wales members. smalltalk is the must-read title for early years education and early years childcare providers in Wales.
Whether you are looking for ideas to implement within the setting or to help you with your training and development, wanting to keep up to date with the latest curriculum changes or changes in legislation, our 32-page, full colour magazine is packed full of articles to inspire you to embed and inform high-quality practice, whilst continuing to run a successful business.
Welcome to the summer issue of smalltalk
A year ago our sector had responded to unprecedented changes and challenges without a blueprint to follow or guide us. This issue we reflect on the importance of good quality early years services and demonstrate how Early Years Wales members have continued to innovate and adapt their practices throughout the crisis. So much so we're doing it over more pages, we're thrilled to announce we've increased your magazine from 28 to 32-pages. Here's a taster of what's inside…
4. Introducing you to the new Additional Learning Needs (ALN) system in Wales
Preparing you for the new ALN system which comes into force in September.
5. Curriculum for Wales
A summary of the Enabling Pathways guidance and the draft curriculum for funded non-maintained settings.

6. Early Years Wales Setting of the Year 2020:

Little Inspirations Day Nurseries Investing in their staff has been the key to this group of nurseries success.

10. Cover story: Childcare on the front line…a year on

A year ago our sector had responded to unprecendented changes and challenges without a blueprint to follow or guide us. The following three articles demonstrate how you have continued to innovate and adapt your practices.
11. The impact of Covid-19 on Early Years: Research Evidence

As we steadily come out of the latest lockdown it is probably a good time to step back and reflect on what research can tell us about the potential impact Covid-19 has had on Early Childhood Education and Care (ECEC) during the crisis.
13. Case studies

We catch up with three of the member settings that made up our Childcare on the front line feature last year to take a look at how their settings look now compared to then.
15. Foundation Phase: Talking Point

Engaging and involving children and the important adults in their lives, in unusual times.
18. Helping children safely navigate the online world

Keeping children safe online is just as important as their safety when crossing a road or talking to strangers. The NSPCC share some helpful advice and tips on keeping children stay safe online.
21. Do you run a Parent and Toddler group?

We're offering members an exciting opportunity to take part in the Welsh Active Early Years project and receive a package of support to help make your group a success.
22. Quality for All: Introducing the Childcare Quality Awareness Toolkit

The Early Years Wales Childcare Quality Awareness Toolkit has been developed as an alternative to the QfA accreditation and recognises the way childcare providers have responded to the changing circumstances over the past year.
24. WeCare Wales Ambassador campaign

Anyone who works, volunteers or has a keen interest in Early Years and Childcare or in Social Care can become a WeCare Ambassador. Two of our own share their motivations for representing the sector.
26. Did you know your setting can get free donations from leading online retailers?

The average online shopper could raise £30 a year for your setting. easyfundraising show you how.
28. St David's Day on the Isle of Wight

The pupils of St Mary's Catholic Primary School in Ryde had a thoroughly enjoyable (virtual) day out in Wales.
30. What is a Risk Assessment and why is it needed?

Considerations and guidance for carrying out regular risk assessments.
===================================
Members: don't forget to log in to access your member discount. To find out more or to become a member visit our membership page.
===================================