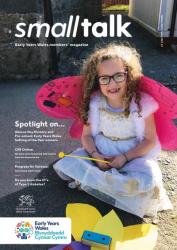 smalltalk…supporting the early years sector in Wales for over 30-years.
Published quarterly since spring 1986, and mailed free of charge to all Early Years Wales members. smalltalk is the must-read title for early years education and early years childcare providers in Wales.
Whether you are looking for ideas to implement within the setting or to help you with your training and development, wanting to keep up to date with the latest curriculum changes or changes in legislation, our 28-page, full colour magazine is packed full of articles to inspire you to embed and inform high-quality practice, whilst continuing to run a successful business.
Welcome to the winter edition of smalltalk
In this issue we start with a note from Jane Alexander, Chief Executive Officer who has announced she will be retiring from her role as Chief Executive Officer at Early Years Wales at the end of February.
On behalf of the Early Years Wales team and our members I'd like to wish Jane all the best in her retirement. Over the past 5 and a half years she has been key to the milestones achieved not only by Early Years Wales but by the sector in Wales as a whole.
Our second in a series of Spotlight features is on Abacus Day Nursery and Pre-school based in the Uplands area of Swansea. They were awarded the Early Years Wales Setting of the Year award earlier on this year. We give you a glimpse into the work they've been doing and why they stood out to the judges.
If you missed out on a nomination for our 2019 awards, then never fear the date for our 2020 celebration has been announced. Nominations open early January so keep an eye out on our social media channels for further details.
Also kicking off the new year is the SASS (self-Assessment of Service Statement). All CIW registered providers will need to complete this online. CIW have provided clear guidance notes on how to set up your account.
Have you attended any of our Foundation Phase Excellence Network events (FPEN)? We welcome in 2020 by showcasing excellence in the Foundation Phase in Denbighshire on 13th February and Bridgend on 5th March. Our Foundation Phase; Talking Point this issue is brought to you by Nia Richards from the Arts Council of Wales, who will be our guest speaker and workshop lead in Denbighshire. She will be speaking about developing creativity and taking risks in the early years.
Do you work between 10 and 16 hours a week and would like to upskill and achieve new qualifications? We are delighted that Welsh Government has extended its Progress for Success programme to enable more of the childcare workforce to enhance the provision that is available. We have the official update here!
'I've got something in my bucket, in my bucket, in my bucket…' has been our earworm since Jane Williams, Early Years Wales Additional Learning Needs Co-ordinator for Newport and Claire Bell, Early Years Wales Development Worker for Newport came back from 2-days Attention Autism training with the inspirational Gina Davies (www.ginadavies.co.uk). If you've been thinking about attending, by the end of reading Jane & Claire's report we guarantee you will be booked on!
We've teamed up with Diabetes Cymru this issue to help raise awareness of the symptoms of Type 1 Diabetes. Knowing the 4 T's could help save a child's life and what to do if you spot any of the signs.
We love being kept up to date with your stories and news and were chuffed when we received an update and photos from Sunray Daycare in Flintshire. They were the lucky winners of a competition we ran in the winter 2018 issue to win a starter pack of woodworking tools. The children got straight to work by helping to build a new Discovery Den for their setting.
…& finally, we introduce you to Julie Powell. Julie is our Welsh Active Early Years Operations Manager and is responsible for developing the Active Together Wales and the Active Baby and You physical literacy programmes in partnership with Welsh Gymnastics.
If you would like to know more about these projects or any of our other work, follow us on social media or email: [email protected].