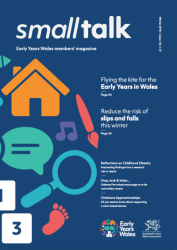 smalltalk…supporting the early years sector in Wales for over 30-years.
Published quarterly since spring 1986, printed on a matt uncoated recycled paper and mailed free of charge to all Early Years Wales members in a polybag made from potatoes…yes, that's right..potatoes!! smalltalk is the must-read title for early years education and early years childcare providers in Wales.
Whether you are looking for ideas to implement within the setting or to help you with your training and development, wanting to keep up to date with the latest curriculum changes or changes in legislation, our 28-page, full colour magazine is packed full of articles to inspire you to embed and inform high-quality practice, whilst continuing to run a successful business.
Welcome to Early Years Wales
…apologies for the slightly later publication date but we have a very good reason for the delay. Since we announced in October that Wales PPA had become Early Years Wales, we've been a little busy crossing the i's & dotting the t's. Or is the other way around?!
The process of rebranding has been a very exciting one and we are delighted to be able to reveal our new look to you throughout the content of this issue. To paraphrase the glossies 'new year, new us', we hope you like it as much as we do.
As with every issue, we have so much to say, here's a sneaky peak as to what's in store this quarter…
Jane Alexander outlines her vision for Early Years Wales as we begin a new chapter on page 4. What is a brand? Early Years Wales is more than just a name change and a new logo – we invited Joe Brown from our brand agency, designdough, to explain the process behind creating our new look (page 5).
To celebrate, we've collaborated with Pete Moorhouse & Cosy to give one lucky reader the chance to win the perfect woodworking starter pack worth over £200.00. See page 10 for details.
Our cover story focuses on Childcare Apprenticeships. Essential to our economy, apprenticeships enable more people to achieve their full potential and are a valuable route into employment. We bring you all you need to know about supporting a workbased learner on page 12.
It may seem obvious but getting to know your local community can be invaluable. Rachel Davies from Llandogo Early Years discovered this when she wanted to improve the outdoor learning opportunities for her setting. She shares her experiences in Foundation Phase: Talking Point. We bring you more community partnership working on page 11, where we hear all about one members visit from their local lollipop man.
We welcome three new contributors to smalltalk this issue; Louise Wilkinson – Head of Information & Learning of the Child Brain Injury Trust, highlights the prevalence of a head injury sustained in the early years and gives us a brief overview of their newly launched Early Years Awareness Project (page 16) and on page 24 Claire Beynon, a specialist registrar in Public Health with Public Health Wales shares her findings from a recent trip to Japan where she has been researching childhood obesity levels. Mike Cassidy gives us some best practice advice when it comes to reducing the risk of slips and falls this winter (page 26).
Last but not least, we are delighted to welcome back Vicky Quigley and 'the workie' on page 20. They are here to remind you that the minimum contributions under Auto Enrolment are increasing in April 2019.
So, without further ado…