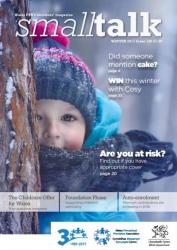 smalltalk…supporting the early years sector in Wales for over 30-years.
Published quarterly since spring 1986 and mailed free of charge to all Early Years Wales formerly Wales PPA members, smalltalk is the must-read title for early years education and childcare providers in Wales.
Our 24-page, full colour magazine is packed full of articles to inspire you to embed and inform high-quality practice, whilst continuing to run a successful business.
In this issue we round up a very hectic year and update you on some important changes that are happening in the first half of 2018.
We welcome back Vicky Quigley a Pension & Benefit Specialist from Demna Consulting Ltd to update you on the changes that are taking effect in April to the increase of minimum contributions that must be paid into your pension scheme for Auto Enrolment.
We give you a brief overview of the General Data Protection Regulation (GDPR) which is replacing the Data Protection Act in May. Watch out for further updates online and in the spring 2018 issue.
We also give you a more in-depth update on the Active Offer: how and why you should be delivering it.
The Childcare Offer for Wales is currently being piloted in seven local authority areas. We have received many questions from you recently regarding the offer which we put to officials at Welsh Government, please see page 10 for the answers.
In Foundation Phase: Talking Point this issue we tackle the subject of well-being in the early years. Kelcie discusses how putting some simple steps into practice through the foundation phase can make the world of difference to the well-being of the children in your care.
A subject that has made the news a few times recently but not the headlines, has been the subject of underinsurance. Robert Lewis reports on the consequences of being underinsured. We encourage you to check your policies.