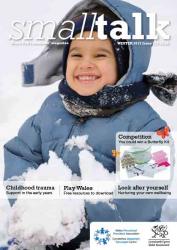 smalltalk…supporting the early years sector in Wales for over 30-years.
Published quarterly since spring 1986 and mailed free of charge to all Early Years Wales - formerly Wales PPA members, smalltalk is the must-read title for early years education and childcare providers in Wales.
Our 24-page, full colour magazine is packed full of articles to inspire you to embed and inform high-quality practice, whilst continuing to run a successful business.
In the news section, Shirley Hughes writes about her setting's recent open day and how wood carvings have brought educational fun to their group; and Vicki Neale
from the Care Council of Wales discusses the launch of the revised childcare qualification list.
This quarter's Foundation Phase: Talking Point, Sharman Morgan explores the benefits of information and communications technology in childcare settings, plus things to consider when deciding what electronic equipment to buy.
Our special feature starts on page 8 where Jane Evans takes a look at childhood trauma and the importance of support in the early years. On the other side of the
spectrum, Susan Davis examines the importance of looking after yourself as well as others in your role as a child carer on page 11.
Play Wales has stacks of new free information sheets and a toolkit available for you to download, take a look what's on offer on pages 14 and 15. Roy Frances from the
Woodland Trust asks people to go wild in the woods and find trees planted for your children, visit page 16 for more info.
Nicola Manley shares some cool activities for you to try out in your setting, pages 12 and 13; Flick to page 18 and you'll see the Wales Centre for Behavioural Change is offering free workshops for nursery owners and staff to help improve childcare businesses.