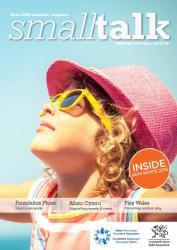 smalltalk…supporting the early years sector in Wales for over 30-years.
Published quarterly since spring 1986 and mailed free of charge to all Early Years Wales formerly Wales PPA members, smalltalk is the must-read title for early years education and childcare providers in Wales.
Our 24-page, full colour magazine is packed full of articles to inspire you to embed and inform high-quality practice, whilst continuing to run a successful business.
'SLIP, SLOP, SLAP! SLIP, SLOP, SLAP! Wear a T-shirt, sunscreen and a hat!' This is the message that Sun Safe Nurseries have for you on page seven. Have you signed up to their accreditation scheme?
Of course, no issue of smalltalk would be complete without finding out what has been going on in member groups and regionally. But to kick start the issue Kelcie Hurley has put together an easy-to-use guide on the Foundation Phase Profile. The four areas of learning have been broken down to enable you, as practitioners, to assess the development of children in your care.
Have you attended one of our Play to Learn training sessions? Sarah Wiggin explains the importance of physical literacy in early years on page 10.
The CSSIW are back to inform you of the new inspection framework, the main areas of consideration and what will be done differently. We also provide you with some important information relating to storing data electronically (see page 14).
We are pleased to introduce Kirsti Moore from Afasic Cymru on page 15. She would like to talk to you about the support they can offer to parents of children with speech, language and communication difficulties.
Our latest regular contributor, Matt Anthony, follows up his first article with a demonstration of how our basic Welsh language course, Un, dau, tri – hwyl y sbri has been implemented in a member setting and the benefits it has brought.
Play Wales' latest information sheet aims to support early years practitioners to provide physical activity through outdoor play in their settings. Mike Greenaway, Director of Play Wales has very kindly provided us with an excerpt.