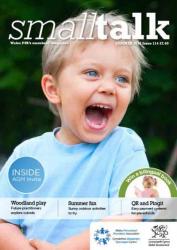 smalltalk…supporting the early years sector in Wales for over 30-years.
Published quarterly since spring 1986 and mailed free of charge to all Wales PPA members, smalltalk is the must-read title for early years education and childcare providers in Wales.
Our 24-page, full colour magazine is packed full of articles to inspire you to embed and inform high-quality practice, whilst continuing to run a successful business.
This time around we've got some fun features, news from you, the settings, and free resources to download; also, bilingual books are available in the comp and in the centre pages your invite to our AGM can be found.
In the news section, we hear from early years providers in the regions: Dragonflies celebrate Chinese New Year, St Winefride's achieve 'Highly commended' in our QfA scheme, and Wick and District become the first independent playgroup in Wales to receive the Eco-Schools Platinum Award for long term achievement.
For Foundation Phase: Talking Point, Sharman Morgan writes for us for the last time, as she's sadly leaving the association; she takes a look at what makes an effective early years leader. We wish her all the best for the future.
Looking for some activities to try out in your provision or at home? Nicola Manley returns to show us some sizzling summer activities to explore; and Lecturers at Glyndŵr University share their recent research on future practitioners and outside play.
Other highlights this quarter include getting technical with Barclays relationship support manager, Sarah Johnson, explaining QR codes and the Pingit app, the Care Council for Wales show us their new early years recruitment app, and easyfundraising look further into how you can raise free funds.