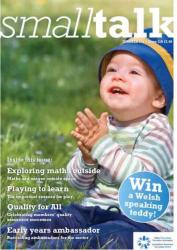 smalltalk…supporting the early years sector in Wales for over 30-years.
Published quarterly since spring 1986 and mailed free of charge to all Early Years Wales formerly Wales PPA members, smalltalk is the must-read title for early years education and childcare providers in Wales.
Our 24-page, full colour magazine is packed full of articles to inspire you to embed and inform high-quality practice, whilst continuing to run a successful business.
If you go down to the woods today…(well, not the woods, but if you go down to page 13 of this quarter's smalltalk) you're sure of a big surprise: we're giving members the chance to win a Welsh speaking teddy, more on that later.
This issue we have an excellent mix of regular articles and new features. In the news section Alison Owen talks about her setting's recent healthy eating award, Hayley Alexander-Luff and Eleanor Lansley discuss their nursery's achievements, and Jenine Gill celebrates her provision wining Service Sector Business of the Year.
For Foundation Phase: Talking Point, Sharman Morgan explores maths-themed activities outdoors and we get an insight to how three members utilise their unique outside space.
In the centre pages, child psychologist Jeni Hooper states 10 important reasons why play is crucial for developing children, and a few pages further the Care Council for Wales are looking for early years ambassadors. We also provide a guide for sharing your news with us and Judy Hutchins updates us on the Incredible Years programmes.
Since it began last year we've had 22 members complete our quality assurance scheme, QfA, and on page 15 we congratulate their successes. On page 18 we give a breakdown of changes to the national minimum wage taking place in October, and the MPLC asks if you're pressing play legally.