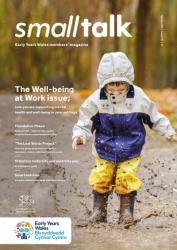 smalltalk…supporting the early years sector in Wales for over 30-years.
Published quarterly since spring 1986, and mailed free of charge to all Early Years Wales members. smalltalk is the must-read title for early years education and early years childcare providers in Wales.
Whether you are looking for ideas to implement within the setting or to help you with your training and development, wanting to keep up to date with the latest curriculum changes or changes in legislation, our 28-page, full colour magazine is packed full of articles to inspire you to embed and inform high-quality practice, whilst continuing to run a successful business.
Welcome to the spring edition of smalltalk
'Hello' from Dave Goodger, Chief Executive Officer
Hello, I am pleased to introduce myself to you all through this brief section of Smalltalk
I am looking forward to working with our membership and wider partners to continue to provide support to the Early Years sector in Wales. In due course, I look forward to meeting many of you in person and finding out about your role in the sector. In the meantime, if you would like to contact me, I would be pleased to hear from any of our members or partners.
At this point I would like to thank Jane for all her work as CEO with Early Years Wales and to wish her a happy and restful retirement. Diolch yn fawr, Jane.
–
"Playing is learning right!?" A very close friend of mine, a floral designer, recently posted the above question on her Instagram page. She was heading off to a workshop where she would be learning and growing her knowledge and skills with other florists; sharing best practice in order to create the best, most innovative and progressive displays for her clients.
This made me stop and think.
Learning through play. A mantra that is synonymous with the early years and child development. But what does it mean for us grown-ups? Do we play enough? Do we take learning for granted? We are always learning; & we don't have to have a certificate to prove it! At the FPEN event (page 4) delegates were introduced to The 5 Creative Habits of Mind. This demonstrated that 'creativity is a habit of mind that can be developed within and through all subjects and disciplines. It's not a skill bound within the arts but a wider ability to question, make connections, and take an innovative approach to problem solving.' in short, by doing these things we are Learning through play right?!
On a slightly more somber note on behalf of us all at Early Years Wales, I would like to offer our heartfelt sympathies to any providers that have suffered loss or damage as a result of the torrential rain we have experienced. If there is anything we can do to help, please do not hesitate to call your regional office where a member of the team will be available to take your call.