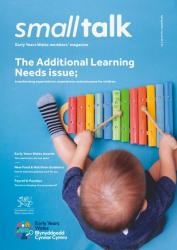 smalltalk…supporting the early years sector in Wales for over 30-years.
Published quarterly since spring 1986, printed on a matt uncoated recycled paper and mailed free of charge to all Early Years Wales members in a polybag made from potatoes…yes, that's right..potatoes!! smalltalk is the must-read title for early years education and early years childcare providers in Wales.
Whether you are looking for ideas to implement within the setting or to help you with your training and development, wanting to keep up to date with the latest curriculum changes or changes in legislation, our 28-page, full colour magazine is packed full of articles to inspire you to embed and inform high-quality practice, whilst continuing to run a successful business.
Welcome to the spring edition of smalltalk
Hello March!
It's only been 6 months since we changed our name, but it feels like we've been Early Years Wales forever. We feel very at-home with our new look, but you know us – we're not ones for sitting
still for long and this quarter has been no exception and is reflected as such in the following pages. I'm pleased to announce that from this issue smalltalk has officially increased to 28-pages.
So, #ICYMI what have we been up to? ('in case you missed it' – for those of us that are not quite down with the Gen Z-ers!!?)
As I write this we are holding a week of events dotted around the country. We have been celebrating Foundation Phase Excellence in Conwy, Newport and Cardiff, as well as the first of two Early Years Wales members events in Llanelli.
Our second event, which incorporates our first ever Early Years Wales Awards Ceremony is being held at the fabulous Ruthin Castle on the 8th May. This is your opportunity to get the recognition you deserve. Turn to page 6 for details on how you can nominate and be nominated.
Did you attend any of the regional consultation events held by Welsh Government (WG) on the draft Additional Learning Needs (ALN) Code for Wales and proposed regulations under the ALN Act 2018? Through the new ALN system WG aim to improve the planning and delivery of support for all learners with ALN. To get it right and ensure it delivers the outcomes needed, your views need to be heard. The consultation is open until 22nd March 2019 and can be accessed at https://beta.gov.wales/draft-additional-learning-needs-code
To support the changes, we feature three very different articles in this issue dedicated to the delivery of support for all children with Additional Learning Needs and their families. On page 5, Andrea Wright, Early Years Wales lead manager for ALN, updates us on the work that's been going on behind the scenes since the Act was made law last year.
On page 11 we gain a fascinating insight into how a parent & toddler group that was set up to support families with children who have a specific Additional Learning Need, provided access to Welsh Language learning to all members of their community, including help from a Little Fish!
Our Additional Learning Needs (ALN) Referral Scheme in Newport has been running since 2010. In that time, we have worked with countless families of children with emerging need, with the focus of giving the children the best start in life to help them to reach their full potential. Jane Williams our ALN Co-ordinator for Newport guides us through the referral process on page 18.
We hope this along with the rest of the issue, doesn't disappoint!