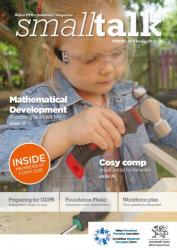 smalltalk…supporting the early years sector in Wales for over 30-years.
Published quarterly since spring 1986 and mailed free of charge to all Early Years Wales formerly Wales PPA members, smalltalk is the must-read title for early years education and childcare providers in Wales.
Our 24-page, full colour magazine is packed full of articles to inspire you to embed and inform high-quality practice, whilst continuing to run a successful business.
In this issue we speak to Welsh Government about their aspirations to develop a highly skilled, early year's profession through their 10 year Childcare, Play and Early Years Workforce Plan that was published in December. They provide some very open, honest & re-assuring answers to some of the questions you have raised during our consultations. Alongside aspiration, comes inspiration…Ellie Curtis is a young lady that has uses her own experiences and personal issues to be able to support children in her setting. Read about her achievements on page 4.
In our summer 2017 issue we reported on the proposed changes to the current system that supports young people with SEN and learning difficulties and/or disabilities. Six-months on, the Additional Learning Needs and Education Tribunal (Wales) Bill has been passed and granted Royal Assent. We update you with what happens next on page 10.
What does GDPR mean to you? Those 4-letter words are probably very familiar to you, but you're not alone if you don't know what they stand for and what it means to your business. The truth is, the General Data Protection Regulation (GDPR) means a lot to your business, and no matter how small you are, you have to comply with the new regulations regarding the secure collection, storage and usage of personal information. Turn to page 6 for our sector specific guide to preparing for the GDPR which comes into force from 25 May.
We are delighted to feature an extract from Pete Moorhouse's new book; Learning through Woodwork as our Foundation Phase: Talking Point feature this issue. We share with you the delights of introducing creative woodwork into the early years, focussing on mathematical development whilst demonstrating how intrinsic numeracy is to woodwork.
Lisa Owen, Manager of Chuckles Nursery in Newport, is testament to that. She seized the day after taking part in a workshop that Pete ran at our AGM last year. Turn to page 16 to hear her story…