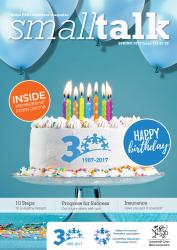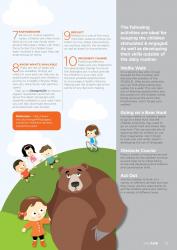 smalltalk…supporting the early years sector in Wales for over 30-years.
Published quarterly since spring 1986 and mailed free of charge to all Early Years Wales formerly Wales PPA members, smalltalk is the must-read title for early years education and childcare providers in Wales.
Our 24-page, full colour magazine is packed full of articles to inspire you to embed and inform high-quality practice, whilst continuing to run a successful business.
The Birthday issue!! 2017 marks Wales PPA's 30th Birthday as an independent childcare organisation. In this issue Tessa Morgan a Senior Health Promotion Practitioner with Public Health Wales tells us about the '10 steps to a healthy weight' programme and how it is working in Powys, and Kelcie Hurley follows on in her Talking Point with how it can be put into practice within your provision.
The Welsh Governments Progress for Success programme was launched in 2016. The scheme funds professionals within the early years, childcare and play sector to gain nationally recognised qualifications at levels 2 and 3. To find out how to apply see page 12.
Being Quality Assured works! We hear from Childsplay Nursery in Carmarthen who have been received their Quality for All accreditation for the fifth year running. Rebecca Davies, Deputy Manager, explains why she thinks it is important to be quality assured and lays to rest any apprehensions you may have with regards to being quality assured. For more info email: [email protected]
As it's at this time of year that the majority of our members renew their membership, we invited Robert Lewis, Corporate Director of CCV Cardiff Insurance Brokers to explain to you some of the additional cover options that may be available to you on page 20.
…& Finally. Your business is our business! We update you on the result of the Cwlwm 2016 Business Assessment survey
"Meningitis is the disease that is feared most by parents" say Meningitis Now. Despite the success of vaccines, the disease is still not beaten, which is why the charity is calling upon all nursery staff & parents to remain vigilant towards the signs and symptoms and not become complacent. Visit www.meningitisnow.org for more info.