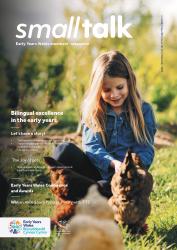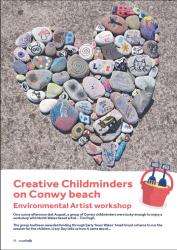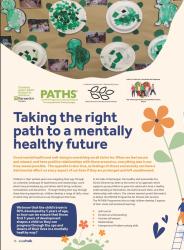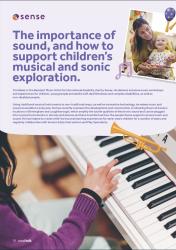 smalltalk…supporting the early years sector in Wales for over 30-years.
Published since spring 1986, and mailed free of charge to all Early Years Wales members. smalltalk is the must-read title for early years education and early years childcare providers in Wales.
Whether you are looking for ideas to implement within the setting or to help you with your training and development, wanting to keep up to date with the latest curriculum changes or changes in legislation, our 64-page, fully bilingual, full-colour magazine is packed full of articles to inspire you to embed and inform high-quality practice, whilst continuing to run a successful business.
Welcome to the May 2023 edition of smalltalk
What's on the cover?
Bilingual excellence in the early years. On page 8 we meet Aberporth Bilingual Playgroup in Ceredigion. In their latest Estyn report they demonstrated Excellence across the board. Melanie Williams delves in to find out how they are embracing the Welsh language, and as a result meeting the needs of their community.
Let's have a story! Reading brings a wide range of benefits with lifelong impact for children and the adults they will become. In this 7-page feature we bring you articles from a wide range of authors.
Booktrust Cymru talk to us about the benefits of sharing stories together in the early years (page 26)
Alison Rees Edwards, Director of Early Years programmes, and Glenda Tinney, Admissions Tutor for the Early Years programmes at University of Wales Trinity St David, explain how they support students with their storytelling and confidence skills (page 27)
Splice Child and Family Project Ltd, Bridgend tell us all about the fun they had when they took part in a book-writing project (page 30)
Early Years Wales partners TTS share some storytelling ideas and inspiration on page 31, one lucky member can also win an Alice Sharp's Pond of Poetry (rrp £101.99) by answering one very simple question.
Read on for a full list of contents...
4. Curriculum: support, documents and training
How Early Years Wales can support members to implement the Curriculum for funded non-maintained nursery settings.
5. Advertising feature - A Celebration of the Early Years
Sector in Wales
A taste of what you'll experience at our conference and awards celebration in June. Have you booked your place yet?
6. Creative childminders on Conwy beach
How an Early Years Wales grant enabled one group of childminders to work with a professional artist.
8. A snapshot of bilingual excellence in the early years - Cymraeg belongs to us all.
A member setting in Ceredigion embraces Welsh Governments vision.
11. Advertising feature - Exploring speech and language
How BBC Tiny Happy People can help support you and your team support children's language and communication skills.
12. Brush up on oral health
There is no time more important than the present to educate children about their dental health. Karen Coates from the Oral Health Foundation gives us lots of tips and resources that can be used in the setting and at home.
16. Taking the right path to a mentally healthy future.
The Vale of Glamorgan, Healthy & Sustainable Pre-school Scheme team up with the Barnardos PATHS® Programme.
18. The importance of sound, and how to support children's musical and sonic exploration.
Tim Baker is the Resident Music Artist for the national disability charity Sense. He explains how parents, carers and childcare professionals can create sensory experiences for children through sound.
21. The joy of pets: how animals can benefit children's development, health and well-being
The UK is a nation of animal lovers. We hear from settings across Wales who have introduced animals into their settings in very different ways.
24. Who is the RSPCA?
David Allen, Head of Prevention and Education talks to us about the charity's new prevention strategy and shares resources that can be used in the setting.
26. Cover story... The benefits of sharing stories together in
the early years
Booktrust Cymru tell us why reading with babies in the first 6-months really matters.
27. Let's have a story! Supporting early years students' storytelling confidence and skills
Storytelling can be an area that practitioners find challenging in terms of confidence. The Early Years team at University of Wales Trinity Saint David (UWTSD) explain how they help students to overcome this as part of their studies.
30. Shirley the Sheep; a story about belonging
Splice Child and Family Project tell us about their latest book writing project.
28. COMPETITION TIME! Storytelling Ideas and Inspiration with TSS
Thanks to the team at TTS, we've got an Alice Sharp Pond of Poetry to give away to one lucky member.