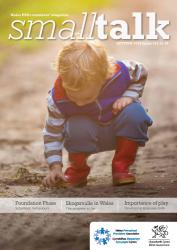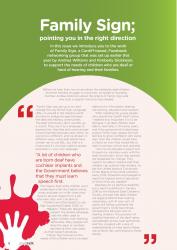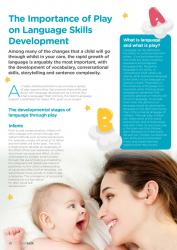 smalltalk…supporting the early years sector in Wales for over 30-years.
Published quarterly since spring 1986 and mailed free of charge to all Early Years Wales formerly Wales PPA members, smalltalk is the must-read title for early years education and childcare providers in Wales.
Our 24-page, full colour magazine is packed full of articles to inspire you to embed and inform high-quality practice, whilst continuing to run a successful business.
Communication is key in this issue: we have put together some fascinating articles that discuss the importance of language development on a variety of levels.
So, without further a-do let's get the new term off to a flying start with some of your news from the past couple of months. Turn to page 4 to get your taste buds tingling with Border Pre-school's menu du jour served up from their new mud kitchen!
We are delighted to introduce Family Sign, a Cardiff-based Facebook networking group that aims to bridge the gap in communication for families of deaf or hard of hearing children.
To find out more about the work they are doing and the obstacles they are having to overcome, turn to page 8. Matt Anthony's article follows on nicely from this, as he discusses the importance of play in language skills development.
We welcome back Darren Lewis from Ignite UP to give us an update on how the nature-based pedagogy Skogsmulle is settling into Wales and being embedded into the Foundation Phase and through the medium of Welsh. Talking of the Foundation Phase, we hand over to St Winefride's Playgroup in Flintshire to showcase the importance of working with parents when it comes to understanding children's schematic behaviours.
The impact of having a parent in prison is huge. Jo Mulcahy from Pact Cymru tells you of the support being given to families and how you, as childcare providers, can access advice and guidance.