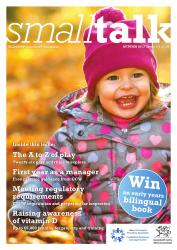 smalltalk…supporting the early years sector in Wales for over 30-years.
Published quarterly since spring 1986 and mailed free of charge to all Early Years Wales formerly Wales PPA members, smalltalk is the must-read title for early years education and childcare providers in Wales.
Our 24-page, full colour magazine is packed full of articles to inspire you to embed and inform high-quality practice, whilst continuing to run a successful business.
This issue is chock-a-block full of play activities and ideas, free resources to download, grant info and news. In the members' news section, Julie May writes about her setting's recent award, Nicola Manley discusses the Super Box programme – we also have a giveaway from the organisers on page 15 – and Gill Munro provides a background to developments at her provision.
On pages eight and nine, Christine Thomas offers an insight into an activity at her playgroup and the Care Council for Wales talk about their new free resource for first year early years managers.
Flick to the centre pages and you'll see a whopping 26 play activities and games to inspire you in your setting. A few pages further, the Welsh Government discuss their recent 'Building a Brighter Future: The Early Years and Childcare Plan'. We also provide some considerations for maintaining registration with CSSIW and preparing for inspection.
Can you raise awareness of vitamin D? The Feeding for Life Foundation have launched a grant scheme where you can apply for up to £5,000 to fund projects that support best practice on page 17. Also, further on, Barclays have developed an app to make transferring money more convenient, and the Meningitis Trust discuss their new campaign.