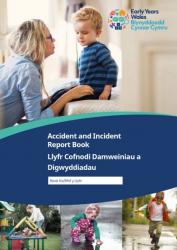 An invaluable bilingual book for any setting – the Early Years Wales Accident and Incident Report Book is new and improved. This latest edition comes with more pages and is even better value!
Room to record 50 separate accidents and incidents on carbonless paper, enabling you to provide a parent or guardian with a copy.
Bilingual
A4 (21.0 x 29.7cm)
We've even added a handy page to remind you when you're running low!
---

Members: Log in prior to adding items to your cart to access your member discount. Simply request a new password to access your account for the first time.
Not a member? Membership is currently FREE. To become a member and receive a membership discount on this item, visit our membership page.