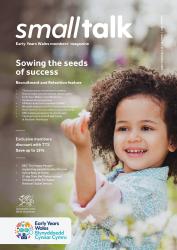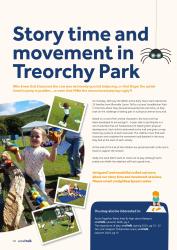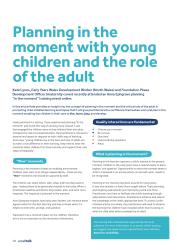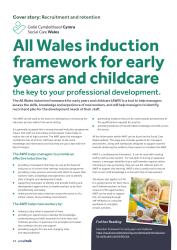 smalltalk…supporting the early years sector in Wales for over 30-years.
Published quarterly since spring 1986, and mailed free of charge to all Early Years Wales members. smalltalk is the must-read title for early years education and early years childcare providers in Wales.
Whether you are looking for ideas to implement within the setting or to help you with your training and development, wanting to keep up to date with the latest curriculum changes or changes in legislation, our 64-page, fully bilingual, full-colour magazine is packed full of articles to inspire you to embed and inform high-quality practice, whilst continuing to run a successful business.
Welcome to the summer 2022 edition of smalltalk
What do Tik-Tok Fridays, Tummy Time, Instagram, Tiny Happy People and Roger the Spider have in common? They all play a very small but important part in the latest issue of smalltalk.
In this issue we show you how it's the little things that can make a big difference. Our feature on Recruitment and Retention highlights that staff are a settings most valuable asset, and how employers can not only aim to attract high-quality applicants but keep hold of existing talent. We consider the importance of Employer Branding when recruiting and retaining a skilled workforce - see page 10 for our top tips on making your job adverts stand out from the crowd. Already in full swing is our brand new Workforce Development programme, we tell you why we are working so hard to support you achieve your career goals on page 13 plus much more. We are also delighted to welcome BBC Tiny Happy People to smalltalk, turn to page 30 to find out how they can help you support parents and encourage playtime at home.
Last but not least...we are thrilled to announce our new partnership with TTS and Consortium. To mark the occasion they have given Early Years Wales members some very exclusive discounts, Turn to the middle pages for more info.
Read on, for a taste of what else is inside
4. Story time and movement in Treorchy Park
Puddle jumping with Roger the spider and his friends!
5. Curriculum for funded non-maintained nursery settings
To support the new Curriculum for Wales the Curriculum for funded non-maintained nursery settings has been designed by the sector for the sector.
6. Planning in the moment with young children and the role of the adult
Have you ever wondered how planning "in the moment" works? We sent Kate Lyons to find out.
8. Childcare Offer for Wales: National Digital Service
The new national digital service promises to bring consistency to both parents and providers accessing the Childcare Offer.
9. The importance of employer branding when recruiting and retaining a skilled workforce
Our cover story this issue considers the importance of employer branding when recruiting and retaining the right people for your team.
10. How to make your job adverts shine brighter
Our top tips to attract the best candidates.
12. Early Years Wales: supporting you to achieve your career goals
Have you booked your staff onto any of our workforce development training courses yet? Raising the skills and standards among early years and childcare practitioners are vital if we are to improve outcomes for all children in Wales. Early Years Wales's new Workforce Development programme has been developed to do just that.
14. All Wales induction framework for early years and childcare – the key to your professional development
The All Wales induction framework (AWIF) gives managers the confidence that all their staff are being supported equally from induction right the way through their career.
15. How Early Years Wales members are safeguarding against recruitment and retention challenges facing them post-Covid.
Two member settings share how they are tackling some of the recruitment and retention issues facing them currently.
18. Disclosure and Barring Service and Safeguarding
Carol Eland, Regional Outreach Adviser for Wales at DBS, outlines the organisation's products and services available to help employers make safer recruitment decisions.
22. Well-being at work; one settings well-being promise to the team
Pre-Covid work-related anxiety and stress was a big concern amongst early years practitioners. We invited Rachael's Playhouse in Rhondda Cynon Taff back to smalltalk to explain why staff well-being is as important now as it ever has been.
24. Advertising feature: Active Baby at Home (2-day Train the Trainer Course)
Read all about our new training course developed to give practitioners the skills, knowledge and resources needed to deliver the 6-week Active Baby at Home programme.
26. A Floor Play Inquiry
As practitioners we're used to spending a lot of time on the floor, but have you have thought about how you engage with the floor versus how the children use the floor? This article is guaranteed to take you on a whole new journey.
30. Advertising feature: The importance of play
How the BBC's Tiny Happy People can help you and your team support parents and encourage playtime at home.
31. Our Guide to the Do's and Don'ts of virtual meetings
"Sorry, I was on mute" according to LinkedIn was the quote of 2020. We've put together our own guide to virtual meeting etiquette.
32. TTS and Consortium are proud to partner with Early Years Wales
Exclusive members discount codes when you order with TTS.