Quality for All (QfA) – Coming Soon!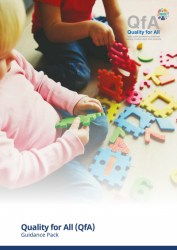 Quality for All (QfA) is Early Years Wales' quality assurance scheme. It is available to any type of child care service and involves a written self-evaluation of the service and an assessment of practice.
QfA helps providers of children's day care to think about and demonstrate how they plan and improve their service. The award aims high. It considers more than minimum standards, giving providers the opportunity to gain recognition for the investment and contribution they and their staff make to children's day care.
---
We have currently paused sale of QfA while the scheme undergoes a review. An updated version will be available soon.

For more information, please contact Claire Thomas: [email protected] or 07581 630974
Price to be confirmed.