Quality for All (QfA) – Annual Re-accreditation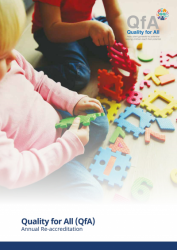 Quality for All (QfA) is Early Years Wales' quality assurance scheme. It is available to any type of child care service and involves a written self-evaluation of the service and an assessment of practice.
QfA helps providers of children's day care to think about and demonstrate how they plan and improve their service. The award aims high. It considers more than minimum standards, giving providers the opportunity to gain recognition for the investment and contribution they and their staff make to children's day care. For more info on how QfA works, visit our dedicated page here

To get started with QfA, purchase a Guidance and Evaluation Pack here. To book your first assessment go here.
---

To stay accredited you will need to complete and return your self-evaluation form, detailing the progress, changes and future plans that have been made before the expiry date on your certificate.
To book your re-accreditation:
Upload your evaluation using the "Choose file" button below,
add item to your cart,
complete purchase,
the Quality for All Co-ordinator will then be in touch.
Members: don't forget to log in to access your member discount. To find out more or to become a member visit our membership page.