Nature Notes - Nodau Natur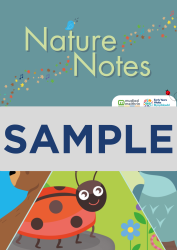 SAMPLE
This resource is exclusive to Early Years Wales members. Not a member? check out our membership page for a full list of membership benefits. Membership is currently FREE!
Already a member? Log in to access the packs. All members have online accounts, simply request a new password by entering the email you have provided us with to access your account for the first time.
A musical journey around the world
The Nature Notes (Nodau Natur) project was originally commissioned in the Welsh language, by Mudiad Meithrin to be used and enjoyed in the Cylchoedd Meithrin (Welsh language playgroups) Welsh medium day nurseries and in schools. Early Years Wales have comissioned the project be adapted to English to make this innovating resource accessible to the wider early years sector.
This contemporary resource presents a combination of Welsh language rhymes and rhymes/songs from other languages that are linked to various cultures that have been rooted in Wales for a century and more.
The voices of professional Welsh language musicians and Welsh musicians from ethnic groups can be heard in the resource. They have collaborated to record an exciting musical resource that combines Welsh language rhymes and rhymes/songs in Polish, Romanian and Urdu.
To encourage the child's interest in each rhyme, there is a creative activity suggestion to go with each one.
---
SAMPLE ONLY. Become a member or log in to access and purchase the packs.