Childcare Quality Awareness Toolkit - Coming soon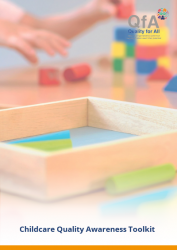 Owners and Management Teams (including Trustees/Committees) of childcare settings are always keen to provide quality services, meeting their duty of care to provide safe environments for both children and staff. Your commitment to continuous reflective practice and improvement has never been so vital as it is now.
We have designed our Childcare Quality Awareness Toolkit to reflect on the quality measures that must be taken to support infection and prevention control. It is available for members and non-members and is suitable for all types of childcare provisions. These include:
Playgroups
Day Nurseries
Creche
Childminder
Out of School Club
What are the benefits?
Easy to complete toolkit.
Professional discussion with an experienced assessor (virtual).
Address changes made to regulations addressed in the Guidance for childcare and playwork: Coronavirus
Reflect and recognise the scope of work carried out by competent staff.
After completion you will receive a written summary and certificate, both recognising your work.
Our Quality Awareness Toolkit aims to help you confirm the attention you are paying to the various regulatory requirements and official guidance materials that are available at this time in three easy steps:
Step 1 - Download the Toolkit and save the document to your device. You will be notified of your allocated assessor by email within seven working days.
Step 2 - Complete the checklist and sourcing photographic or written evidence, consider how your setting is meeting some or all the points in each section. Forward the completed Toolkit and any applicable evidence to your Assessor and arrangements will be made for a follow-up professional discussion via video call, (this can last up to 1 hour).
Step 3 - When the assessor has completed the professional discussion, you will be issued with a certificate that will confirm you have completed this Quality Awareness Toolkit. This certificate will be something to show to parents, local authorities, CIW or any other interested parties to demonstrate that you have adapted your childcare service whilst following Welsh Government and other relevant guidance.
---
We have currently paused sale of the Childcare Quality Awareness Toolkit while the scheme undergoes a review. An updated version will be available soon.

For more information, please contact Claire Thomas: [email protected](link sends e-mail) or 07581 630974
Price to be confirmed.